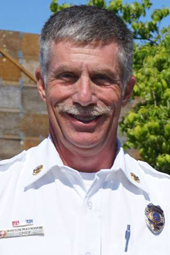 It is my honor to serve the nearly 100,000 residents and visitors of the City of Yakima as their Fire Chief. I am proud to lead the men and women of the Yakima Fire Department who have pledged to risk their safety for your well-being.
Our department's mission is:
We will provide all-risk emergency and non-emergency services to our community.
We are committed to serving with courage and compassion as stewards of the public trust.
We shall leave a positive and genuine impact on all who call upon us.
I am committed to using my 31 years of fire service experience, my bachelor's degree in Fire Service Administration from Eastern Oregon University, and the knowledge gained from the National Fire Academy's Executive Fire Officer Program in Emittsburg, Maryland in the ongoing development of our department. I plan to not only meet, but to exceed, the expectations of the people of Yakima.
Feel free to further explore our website or call if you have any questions. Thank you for the opportunity to serve you.
Sincerely,

Aaron Markham